All guitarists talk about tone, but that's typically in the context of conventionally "good" tone. Now, that's all well and fine and even very smart–most certainly from a career and peer acceptance standpoint. But one challenge with crafting "good tone" is that, whatever style it is in service to, you risk sounding homogenized, tired, and rather boring. While we realize that it is not always appropriate to unleash a wild and crazy guitar sound on a track (or live performance), it's also not a bad thing to occasionally shock and surprise your audience with a barking mad and devilishly beautiful tone. Wake those people up! Hey, you may be surprised at the kudos you'll get for challenging their auditory senses. To help you engage in some tonally aberrant behavior, here are seven twisted tone tips from GP staffers and noted sonic alchemists.
Barry Cleveland – Super Hairy Distortion
I was fooling around in my studio late one evening when I accidentally tried running my Euthymia ICBM fuzz (a clone of the IC op-amp-powered Electro-Harmonix Big Muff that was produced sporadically in the 1970s) into an Electro-Harmonix Micro POG Polyphonic Octave Generator and a Crowther Audio Prunes & Custard Harmonic Generator-Intermodulator. The ICBM produces a huge fuzz sound to begin with, and by running that into the Micro POG with the Sub Octave control at three o' clock, the Dry control at twelve o' clock, and the Octave Up control set at eleven o'clock, I got a massive fuzz-bass sound with a touch of high octave that added edge and definition, and tracked perfectly even when bending notes. But the real eye-opener was adding the Prunes & Custard to the end of the chain. The P&C is a unique pedal that couples a preamp and a wave-shaping distortion circuit. It produces mostly odd harmonic overtones, but by hitting the input hard and setting the Drive control at three o'clock, with the Mix control at about eleven o'clock, it adds in even overtones and churns out an almost Moog-like filter sound when playing a certain way on the low strings. In combination with the ICBM and the Micro POG it kills, producing a tone so large and aggressive that it would likely give Tony Iommi pause. I quickly recorded some improvised riffs in 11/8, just to get something down using the sound, and they became the core tracks for the song "Warning" on my Hologramatron album.
Matt Blackett – Don't Be Picky
Some of my best weird sounds come from fretting a chord in a normal fashion but sounding the notes in an unusual way.
One of my favorite tricks in the studio is to fret a chord with my left hand, hold the guitar right in front of my face, and blow on the strings as hard as I can. It produces a creepy bowed effect that's great on intros and breakdowns. It's too subtle to really translate live but on a recording it rules!
A cool texture that doesn't sound all that guitar-y is to fret a chord, say, a D in the first position, and then tap a more extended voicing of that chord, like a Dadd9, higher up the neck, pulling off to the notes of the lower chord. I slather a bunch of delay and maybe phaser on it and it becomes this swirling bed that could almost be a keyboard part on a Yes album.
Another awesome intro trick is to hold a chord but instead of picking or strumming it, just knock on the back of your neck with your knuckles in time with the music. Bonus points for reversing the track and nudging the backwards part so it's now in time with the drums.
Elliott Sharp – Random Frazzle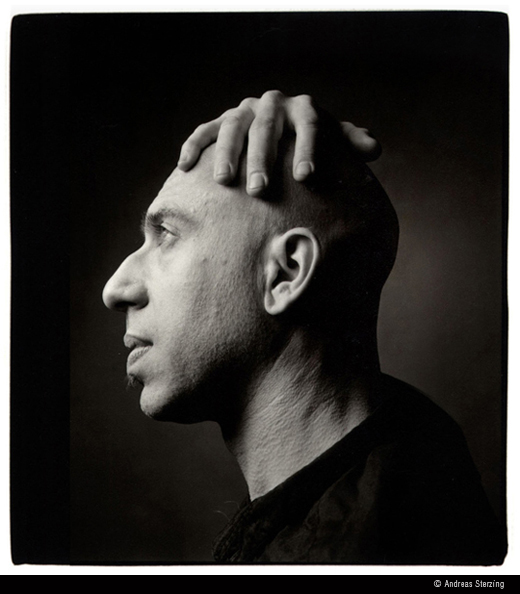 Sometimes you need a tone indefinably craggy and weird, a sound without easy reference points. Z-Vex Fuzz Factory is a good starting point and has been one of my main go-to boxes in the studio for distortion ranging from sweet to wild. Plug it into the Z. Vex Seek Wah and add rhythmic filtering for deep space-funk or techno sounds. But to reach the peak, add the Pefftronics Super Randomatic at the end of the signal chain. This box is a modulated short-delay that allows you to switch the modulators into random mode for unpredictable wave cycles. It can phase and flange and the faster mod speeds create mechanical rhythms all their own. Whether synched with the Seek Wah or running free, sweeping countermelodies and twisted polyrhythms prevail. Adding in the fuzz makes it thicker, buzzier, and louder. Roll the guitar volume down and the Randomatic operates from its internal self-noise and that of the other effects to function as a wave generator yielding strange robotic mutterings or shortwave radio from another zone.
Reeves Gabrels – Three Twisted Tales

1. Back in the mid-'90s, around the same time I got my Pro Tools/ Logic rig I had this idea. I was never a big fan of guitar synthesis. The pitch-to-voltage conversion aspect was always a little too removed from the immediacy of the finger on string of the analog world but I had begun using the synth pickup on my guitar to do MIDI sequencing (largely because it was easier tot me than playing keyboards).Then I had a "stupi-phany." What if, while tracking my guitar through an amp in the studio, I also tracked the MIDI note information that my guitar synth was spitting out into the Logic program I was running (without audio)? What that allowed me to do was to record solos or rhythm tracks listening only to the guitar's magnetic pickups through the amp, without any concern for cleaning up my technique to accommodate the pitch to voltage issues or having to hear any synth notes that might be triggered by pick slides, tremolo bar, pinch harmonics or random rock guitar bravado. After recording a guitar performance I was happy with, I would assign a sound to the MIDI track and listen to it with the guitar. Sometimes it would track perfectly. Sometimes I would clean up the mis-tracked MIDI notes on the computer. The best results were often the happy accidents that would occur between the guitar, the accidental MIDI note triggering, and the choice of sound that I decided to use as the synth source.
Examples of this method at work cam be found on the track "Arrow" from my second solo album Ulysses, where both the rhythm guitar track and the solo were cut in one take while printing MIDI note info. I then went back and cleaned up the MIDI track and even transposed some of it to create harmonies to some off-the-cuff guitar fills (thereby giving them weight and making them seem highly arranged and intentional). You can also find examples of this on the Bowie album Hours … on the tracks "Survive" and "Pretty Things Are Going to Hell," and throughout the Bowie Earthling album.
A note to guitar players: The above process can sometimes be sonically gruesome and patience-trying until you arrive at a result Many producers, song writers, and artists will find this unpleasant. I got away with it because I was the artist on my record and with Bowie I was the guitar player, producer, and co writer of the material. Good tuck.
2. For simple sonic variation, I find that small battery powered amps are very handy By placing them in small and unusual enclosures and talking them, all sorts of interesting yet identifiable guitar-thru-speaker sounds can be found. My favorite is to put a small, cigarette-pack-style Smokey amp in a metal trash can. I then "tune" it to the track by varying the resonance of the enclosure with a small board or trash can lid and placing a mic at the opening. They also sound good in washing machines and dryers. Do not turn these machines on (unless you really want that sound). The pre-chorus guitar from the song "Leper" on my album Rockonica is an example of this.
3. I like to use effects not intended far guitar players. It was a review of the original Korg Kaoss Pad in 1999 that said it had "absolutely no live application for guitar or bass players" that made me go out and get this "DJ" effect. It has been part of my live and studio rig ever since, along with the Alesis airFX and airSynth. I find using anything I cannot turn on and off with my feet is a good thing. It changes the way I approach the guitar, the effect, and the music being played. Examples of all of these devices in action can be found on my live album Live, Late, Loud.
Lyle Workman – Eight Strange Beautiful Tones
1. One of the best guitar sounds was when I was working with Bill Bottrelt and he put a ribbon mic fairly close to the cabinet in a traditional location, then had a Shure SM57 three feet in front but pointing away from the amp.
2. I've had my amp talked from behind the open-back cabinet and that sounded great.
3. For a solo, producer Todd Rundgren ran my guitar through a vocoder and was tweaking it in real time while it was being recorded.
4. Once I miked the pass through–a tube in the studio wall to allow cables to pass between rooms, iV y amps were in the tracking room and I placed a microphone at the opening of the pass through tube in the control room.
5. Another time, an engineer swung a mic on a cable around and around over his head. rodeo fashion while soloed.
6. I once put a large wooden spoon near the bridge and under the strings to produce sitar-type effect.
7. I'm also not against putting masking tape on certain strings to prevent ringing on heavily gained-out Darts.
8. While playing through a chord progression, I've had my engineer put a finger or two on the neck to achieve a chord voicing that would be impossible otherwise.